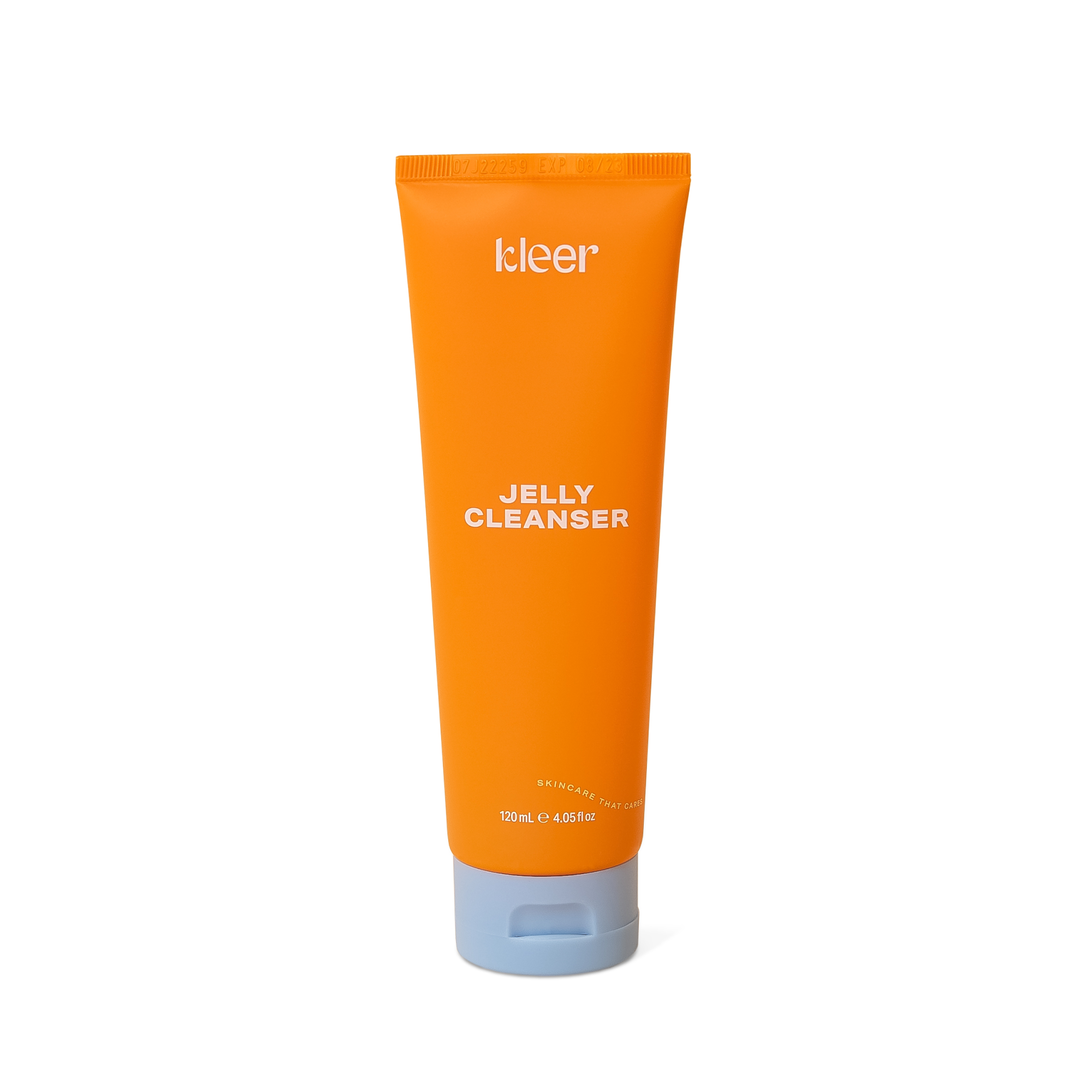 Description
What goes into it?
Size
If you're looking to add a gentle, low-foaming, plant-powered cleanser to your personal skincare routine, you've come to the right place.
Our Kleer Jelly Cleanser's safe, cruelty-free, and pH-balanced formula is truly in a league of its own. It's been tested and optimized for a range of skin types and tones. And each ingredient was chosen for its unique abilities to replenish, protect, hydrate, support, and soothe your natural skin barrier.
It contains all the goodness needed to keep your skin feeling happy and healthy. Its papaya extract that's naturally infused with papain, allowing it to gently exfoliate and nurture a brighter natural glow. But this Jelly doesn't stop there. Antioxidant-rich peach tree leaf extracts also help it reduce redness and guard against harmful free radicals.
Make no mistake, for as gentle as this cleanser is on your skin, it packs enough punch to get the job done. One rinse is all you'll need.
INGREDIENTS: Purified Water, Cocamidopropyl Betaine (Fatty Acid Made From Coconuts), Sodium C14-16 Olefin Sulfonate (From Coconut),Glycerin, Citrullus Lanatus (Watermelon) Fruit Extract (and) Lens Esculenta (Lentil) Fruit Extract (and) Sodium Lactate (and) Sodium Pca,Pyrus Malus (Apple) Fruit Extract, Xanthan Gum, Sodium Benzoate, Potassium Sorbate, Ethylhexylglycerin, Carica Papaya (Papaya) Fruit Extract,  Prunus Persica (Peach) Leaf Extract, Citric Acid, Sodium Chloride
For all skin types & tones
Paraben-free, Fragrance-free, Phthalates-free
Instructions
How do I use it?
Squeeze a dab of cleanser into your hand and gently massage it into your skin. Add a bit of water to work it into a lather, then apply the delightfully bubbly concoction to your face. After a quick rinse, pat that pretty face dry, and you'll be ready to go.
Use it in the morning or afternoon, whenever it's best for you. And don't forget to wink at yourself in the mirror upon completion.
WARNING: Remember, this jelly is for external use only.
Featured Ingredients
Papaya Extract
Papayas contain a substance called papain, which has a unique ability to lightly exfoliate the skin and deliver a bright, natural glow.
Peach Extract
Peach tree leaves contain natural antioxidants that protect the skin against unwanted free radicals while calming irritation and balancing the skin's natural oil production. In skincare, this extract is often used to help soothe skin and reduce the appearance of redness. It's also been known to help reduce the signs of pigmentation and boost skin hydration for a more even-toned complexion.
Watermelon Fruit Extract
Citrullus Lanatus (Watermelon) Fruit Extract is a rich source of antioxidants. It contains citrulline, which aids in the function of filligrin, which forms an essential part of the skin's own water-based moisturizing complex. Basically, it helps your skin do a better job of retaining its moisture naturally.
Lentil Fruit Extract
Lens Esculentra Fruit Extract comes from Lentils (also known as Dal or Legumes), one of the world's most nutritious foods. Due to its powerful antioxidant properties, Lentil powder has been used for centuries to help purify and clarify the skin.
Don't just take our word for it,
see what everyone else has to say.